Embracing Jamaica's long tradition of nurturing and healing, Jakes Driftwood Spa draws fresh ingredients from our gardens together with Cerasee Botanicals' all-natural, Jamaican-made products, to create a unique indigenous spa experience.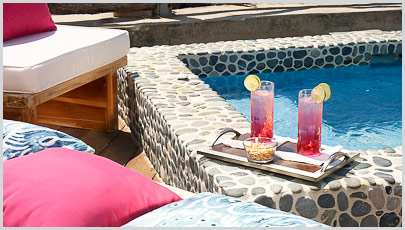 Founded and directed by Laura Henzell, the Driftwood Spa is operated by experienced therapists in a setting inspired by the natural beauty of a little nook above a coral stone cove on the Caribbean Sea. A full service spa, we offer a wide range of treatments including massage therapies such as our signature Aroma Massage and Driftwood Dreams, and body work treatments such as our Coco-Mango Body Buff and Cafe Mocha Wrap - all of which have been uniquely developed for our spa; we also have a mini menu of Kids and Teens services on hand including nail art and hair-braiding. While Bridal Shower, Wedding and Honeymoon packages are always available, we are also happy to tailor a package to suit your needs such as adding a yoga class on our roof deck, champagne and light snacks in our spa garden or combing another treatment that would complete your experience.

As you enter our oasis, let us take you on a journey that will stimulate your senses and bring balance to body, mind and spirit. Here in its' four treatment rooms you will unwind, lulled by waves, while our staff guide you on your journey to relaxation and renewal.

To see a full list of our services CLICK HERE.

Contact us at driftwoodspa@jakeshotel.com for more information or, to ensure you get that well deserved relaxation time at our spa, we encourage you to book your next appointment in advance of your stay.